Ten "Revolutionary Superheroes" T-Shirt
Regular price
Sale price
$ 28.95
Unit price
per
Sale
Sold out
Also available as a v-neck shirt, pullover sweatshirt, t-shirt in youth sizes, small 11" x 14" poster, magnet, and a sticker.

---
Our original design, featuring all ten "Revolutionary Superheroes": Paul Revere, Abigail and John Adams, Henry Knox, George Washington, Ben Franklin, Thomas Jefferson, James Madison, Lafayette, and Alexander Hamilton.
The shirt: Your choice of fabrics and colors:
100% cotton Made in the USA shirt in Dark grey. Grown, knitted, dyed, and sewn in the USA. 4.4 oz

 

Your best choice if you're looking for a 100% Made in the USA shirt. 

 X

S- 4X. See size chart.
Our standard 4.3 oz. Poly-Cotton shirt in Light blue heather

 that gets rave reviews. Our softest shirt. It's also our thinnest and lightest. It is very high-quality and long-wearing, but it is thin and light. Lots of people love them, which you can see in the reviews, but 

if you judge t-shirt quality based on weight or thickness, do not get this one.

 Instead, get the 100% cotton shirt. 

If you're looking for our softest shirt, the one people rave about, this is the one.

 XS - 4X. 

See size chart.
Note that the $3 price difference for the 100% cotton Made in the USA shirt is our higher wholesale cost; there is no additional margin.
Explore our complete collection of Revolutionary Superheroes here.
---
Short Biography on Each Individual

Paul Revere: As an engraver, dispatch rider, and leader of Boston's craftsmen, Revere was active in the town's resistance before the Revolutionary War and then served as a state artillery officer.

Trained as a silversmith by his father, an emigrant from France, Paul Revere (1734-1818) applied his metalworking skills to engraving political cartoons during the 1760s and 1770s. He was active in the North End Caucus, which chose candidates for town offices, and joined in patrolling the docks to prevent the East India Company's tea from being unloaded. Covertly, Revere helped to destroy that tea and organized fellow mechanics to watch British soldiers in 1774. As a messenger, Revere carried news of the tea's destruction to New York and Philadelphia in December 1773 and a year later warned colleagues in New Hampshire that the Royal Navy might soon take over their harbor fort. Most famously, Revere rode to Lexington on April 18, 1775, to warn of an impending British army march, alerting militia commanders along his route. During the war Revere was an officer in Massachusetts's artillery regiment. He commanded the unit during the disastrous Penobscot Expedition, afterward demanding a court-martial to clear his name.
Abigail & John Adams An inseparable couple. We know this because John's political work separated them for years at a time and they wrote wonderful letters to each other.
Henry Knox: Commanded the Continental Army artillery from late 1775 to the end of the war and then worked as the nation's Secretary of War.

Born in Boston to an Ulster Scot family that fell apart, Henry Knox (1750-1806) secured valuable training as a bookseller. He helped to launch a grenadier company for the town's militia regiment, his uniform catching the eye of a royal appointee's daughter, whom he married in 1774. The couple broke with her parents and left Boston after the war began. In July 1775, while helping to lay out a provincial fortification, Knox met the new Continental commander-in-chief, George Washington. By October, Washington was lobbying to put Knox in charge of the army's artillery regiment. The new colonel's first assignment was to bring more heavy cannon to the siege lines around Boston. Knox remained close to Washington through the war, seeing action in New York, New Jersey, Pennsylvania, and eventually Virginia. His strength was logistics, as he established artillery training and manufacturing facilities. After the war, the Continental Congress and then President Washington asked Knox to oversee the country's military, which included responsibilities for coastal forts, militia regulation, and relations with Native nations.
George Washington Colonel of the Virginia regiment, generalissimo of the Continental Army, chairman of the Constitutional Convention, President of the United States.
Benjamin Franklin Printer, essayist, bureaucrat, scientist, lobbyist in London. And at the age of 69, he started a new career as an American statesman.
Thomas Jefferson: Credited primarily with drafting the Declaration of Independence, Jefferson was also a governor, diplomat, secretary of state, and game-changing President.

A Virginia planter and lawyer, Thomas Jefferson (1743-1826) argued for self-government in his 1774 Summary View of the Rights of British America. The next year, Virginia sent him to the Continental Congress. In June 1776 he was placed on the committee to write a declaration of reasons for independence, which John Adams asked him to draft. After debate and changes, Congress approved that document on July 4. Soon afterward Jefferson went home to help write Virginia's new constitution and law code. He became his state's governor in 1779, moving its capital from Williamsburg to Richmond, but his second term ended disastrously with an invasion by British forces under Gen. Benedict Arnold. Back in the Congress in 1783, Jefferson's attempts to work reforms within the Articles of Confederation failed, though he did author the Land Ordinance of 1784. He then went to Paris as a diplomat. Five years later, Jefferson returned to serve as President Washington's first secretary of state, overseeing not only foreign relations but also patents, the census, and other domestic functions. During those years Jefferson was formulating the principles—a wider franchise for white men, state and local control, opposition to banks—that would define his political party and presidency.

James Madison: Called "Father of the Constitution" for his work shaping that document and the Bill of Rights, Madison worked closely with Washington and then Jefferson to build the new U.S. of A.

Scion of a wealthy Virginia family, James Madison (1751-1836) was 5'4" tall and slight, not cut out for military service. Instead, during the Revolutionary War he served in the Virginia government and at the Continental Congress from 1780 to 1783. Back in Virginia, he pushed Thomas Jefferson's Statute for Religious Freedom through the legislature. In the 1780s Madison argued for a new Constitution, speaking often at the Philadelphia Convention of 1787 and helping to write the "Federalist" essays. A leader in the first House of Representatives, Madison fulfilled a promise to contingent supporters of the Constitution by introducing amendments to spell out individual rights and limits on the federal power. In the new century he served eight years as Thomas Jefferson's secretary of state followed by eight years as President.
Lafayette: A wealthy French nobleman, young Lafayette defied his monarch to join the American fight for independence in 1777, becoming one of Gen. Washington's closest subordinates.

Marie-Joseph Paul Yves Roch Gilbert du Motier (1757-1834) inherited the title of Marquis de la Fayette and a huge fortune before the age of two when his father was killed on the battlefield. He received a commission in the musketeers at thirteen. In 1775 Lafayette learned about the war in America. When the French king forbade him to join that fight, the marquis bought a ship and sailed secretly, reaching Georgetown, South Carolina in June 1777. The Continental Congress was won over by Lafayette's offer to serve without pay and gave him a major general's commission but no troops. He impressed Gen. Washington, however, and behaved bravely at Brandywine after being wounded. From then on Lafayette led Continental troops in campaigns all over America. He also traveled back to France in 1779, lobbying the government to send a large army. After participating in the siege of Yorktown, Lafayette returned to France again to maintain its support for the U.S. of A. He also advocated for religious freedom, an end to slavery, and a more republican form of government for France.

Alexander Hamilton Most famous native of the island of Nevis, first Secretary of the U.S. Treasury. Had great powers of perspicuity and persuasion but was not bullet-proof.
---
Our thanks to J.L. Bell of Boston 1775 for his help on this project and his notes about these Revolutionary Superheroes.
Thanks also to Nicole Johnson for sharing her photos while wearing the shirt.
Shipping

For shipments to addresses within the U.S. (scroll down for International shipping)

Flat-rate shipping: Regardless of the number of items you order, the shipping price for shirts, caps, unframed prints and posters, bracelets, lapel pins, pendants, and button packs is $5.95.

For hooded and crewneck sweatshirts, mugs, and blankets, the shipping cost is $8.95. 

Our flat rate shipping means you can add two or more t-shirts, sweatshirts, or caps for no additional shipping charge.

Note that some large or heavy items, including larger framed prints, may have a different shipping charge or a shipping surcharge. When they do, it will be noted on the product page.

 

Timing

We try to ship orders within three business days of receiving them. This applies to in-stock items. Framed items or items requiring personalization may take up to two weeks longer. If there is an extended delay, it will be noted on the product page.

We close for a week over Independence Day and Christmas. A notice will appear at the top of every page of the site in advance of this closure.

We ship most orders via USPS, so if the post office is closed, we won't be shipping orders that day.

If you need to receive your order by a certain date, such as to give as a gift or have for a trip, we recommend ordering at least two weeks in advance, especially if you are using USPS shipping. 

If you're looking for reliable, on-time deliveries, we strongly suggest upgrading to "UPS 3 Business Day Select Shipping."

Additional notes:

When fulfillment takes longer, such as around the Christmas holidays, we'll put up an announcement in the site and will list recommended shipping deadlines below.
If an item is out of stock, we will contact you.
If one of your items is an advance order, that will be noted on the product page along with an estimate of when it will ship. If that estimated date changes, the product page will be updated.

Charges for shipping to destinations in the United States and to APO, DPO, and FPO addresses

Free shipping

On stickers, magnets, decals, patches, static clings, and individual button pins.



US Postal Service shipping - The least expensive, though also less reliable than UPS. (See more on UPS in the next section.) 



$5.95 for shirts, caps, unframed prints and posters, bracelets, lapel pins, pendants, button packs.

Regardless of the number of items you order, the shipping price is still fixed at $5.95. Our flat rate shipping means you can add another t-shirt, cap, or book for no additional shipping charge.



$8.95 for hooded and crewneck sweatshirts, mugs, and blankets.



We strongly recommend using UPS, especially in November and December.

UPS 3 Business Day Select 

Note: UPS 3 Business Day select is not available for addresses in Hawaii and Alaska. If UPS is selected for Hawaii or Alaska, the order will be shipped UPS Ground.

Cut off time: Orders received by 3 pm Eastern will ship the same business day.  Applies to in-stock items that do not require personalization or signing.

UPS's normal (non-holiday) delivery guarantee is by the end of the third business day, and this includes delivery on Saturday.  This applies to the 48 contiguous states. 

$14.95 for shirts, caps, unframed prints and posters, bracelets, lapel pins, pendants, button packs.


$18.95 for hooded and crewneck sweatshirts, mugs, and blankets.


If the actual shipping cost is significantly higher than what we're charging, we will contact you to discuss alternatives.



UPS Overnight (Next Business Day Delivery)


Before placing your order, call 469-233-7712.

---

For shipments to addresses outside the United States

Destinations

We only ship to locations that are served by US Postal Service International Service.

Charges

Canada and Mexico



$18.00

for shirts, caps, unframed prints and posters, bracelets, lapel pins, pendants, button packs.

$24.00

for hooded and crewneck sweatshirts, mugs, and blankets.





Rest of the World



Additional charges for all destinations

Some large, heavy items may have an additional shipping charge.  If that's the case, it will be noted on the product page.

If the actual shipping cost is significantly higher than what we're charging, we will contact you to discuss alternatives.
All original designs are copyrighted by The History List

All designs are copyrighted by The History List and the History Nerd text and design on t-shirts is a registered trademark. If you see a knock off, please let me know.
Mission

Your purchases support our mission to engage people with local history and to support historic sites and history organizations across the country.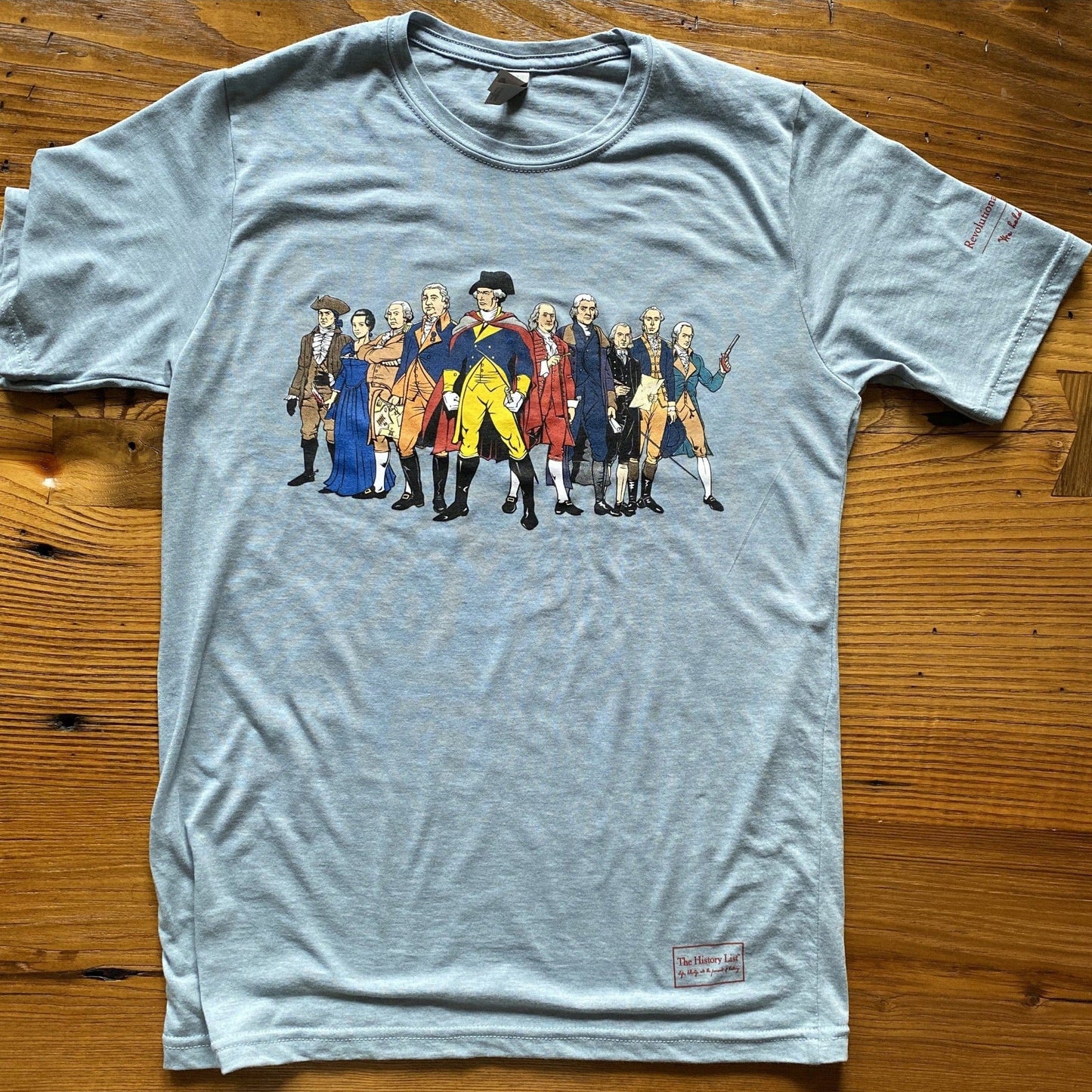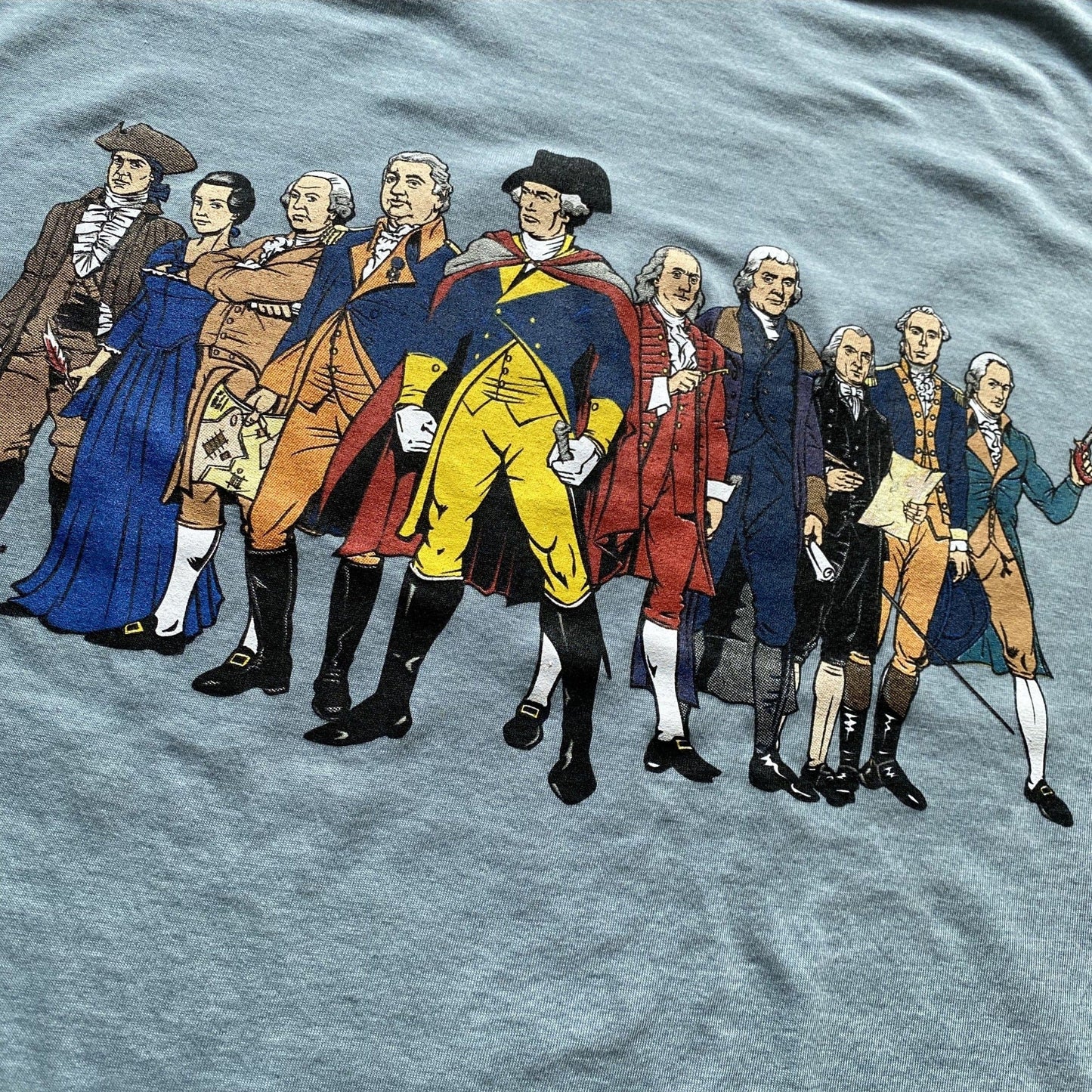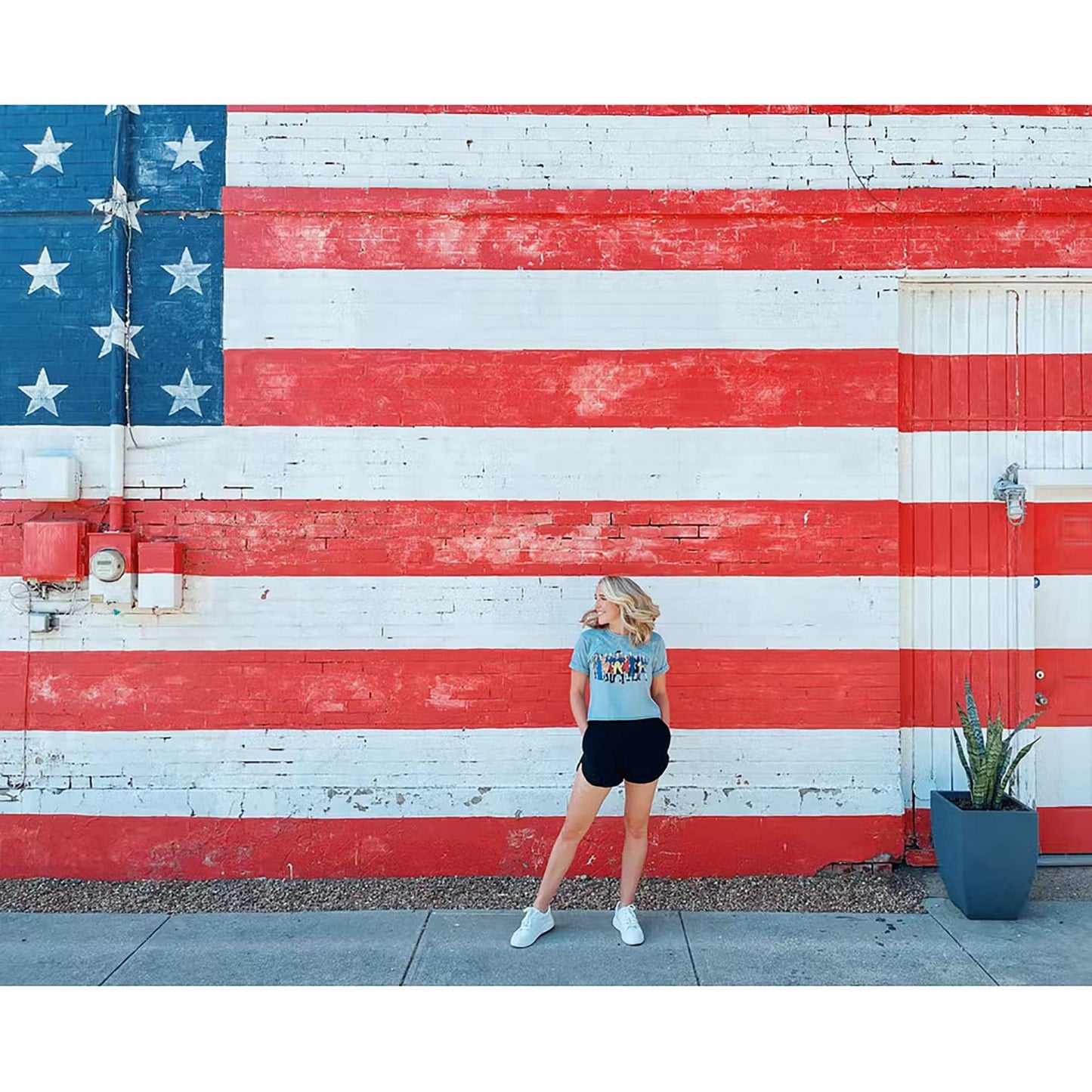 Great quality. Sizing was spot on and kids were delighted.
Very Comfortable
Received my shirt in quick order and the quality is excellent. Already had a few positive comments on it.
Founding Fathers and a Mother Shirt!
I got this shirt because we owe so much to our founding Father and Mothers. I naturally had to get the Carolina Blue being a native of North Carolina. It is beautiful and good quality. I can't wait to wear it. Shipping was fast too.
Nice, little snug. Lol that seems to be all shirts now.
history nerd
My husband teaches U.S. history to 4th graders. He loved the shirts!
Great shirt!
My son is a history fanatic and it's been so hard to find great gifts for him. This shirt hit the mark--it's great quality and the graphic is great!
Love it!
I love the history shirts. They are the best I've seen in all my searching!