"We hold these truths - July 4, 1776" Long-sleeved shirt
Regular price
Sale price
$ 33.95
Unit price
per
Sale
Sold out
Our original design, celebrating July 4th and our nation's Declaration of Independence.
On the front, "1776" and our nation's first flag.
On the back, text taken from the original vellum copy that the delegates signed: "We hold these truths to be self-evident, that all men are created equal, that they are endowed by their Creator with certain unalienable Rights, that among these are Life, Liberty and the pursuit of Happiness — July 4, 1776."
This design is also in a short-sleeved shirt in your choice of a 100% cotton made in USA shirt in white or a super soft polycotton in light blue heather and silver.
We also have the "1776 with Our Nation's First Flag" shirt in antique denim as well as in a crewneck sweatshirt in charcoal, light heather grey v-neck shirt and a grey tank top for women. 
The shirt:
100% cotton Made in the USA Long sleeved shirt in White and Light grey — Grown, knitted, dyed, and sewn in the USA. 5.4 oz. Your best choice if you're looking for a 100% Made in the USA shirt. Sizes S - 4X. With "1776" on the front and  on the front and back. Wash in cold water to ensure that the colors don't run.  See size chart.
Note: We suggest ordering one size larger than you normally wear. (This shirt runs small.)
Care:

 

Wash white shirts in cold so that the colors don't run.
You can also find this design on a static cling, vinyl decal, and boxed notecards with envelope.
---
Historical Background Behind the Flag
By the end of 1775, during the first year of the American Revolutionary War, the Second Continental Congress operated as a de facto war government authorizing the creation of an Army, a Navy and even a small Marine Corps. A new flag was needed to represent the Congress and fledgling nation, initially the United Colonies, with a banner distinct from the British Red Ensign flown from civilian and merchant vessels, the White Ensign of theBritish Royal Navy, and the British Union flags carried by the British Army's men on land. Individual states had been using their own independent flags with Massachusetts using the Taunton Flag and New York using the George Rex Flag prior to the adoption of the Grand Union Flag.

The U.S. colonists' (Continental Colour) was first hoisted on the colonial warship Alfred, in the harbor on the western shore of the Delaware River at Philadelphia, Pennsylvania on December 3, 1775, by newly-appointed Lieutenant John Paul Jones of the formative Continental Navy. The event had been documented in letters to Congress and eyewitness accounts. The flag was used by the U.S. Continental Army forces as both a naval ensign and garrison flag throughout 1776 and early 1777.

It is not known for certain when or by whom the design of the Continental Colors was created, but the flag could easily be produced by sewing white stripes onto the British Red Ensigns. The "Alfred" flag has been credited to Margaret Manny.

It was widely believed that the flag was raised by George Washington's Army on New Year's Day, 1776, at Prospect Hill in Charlestown (now part of Somerville), near his headquarters at Cambridge, Massachusetts, (across the Charles River to the north from Boston), which was then surrounding and laying siege to the British forces then occupying the city, and that the flag was interpreted by British military observers in the city under commanding General Thomas Gage, as a sign of surrender.[5] Some scholars dispute the traditional account and conclude that the flag raised at Prospect Hill was probably a British union flag.

The name "Grand Union" is contemporary to Reconstruction-era historians and was first applied to the Continental Colors by George Henry Preble, in his 1872 History of the American Flag.
Source: Wikipedia.
The hang tag that accompanies the shirt includes a lengthy quote from John Adams, writing from Philadelphia on July 3
" . . . the Delay of this Declaration to this Time, has many great Advantages attending it. — The Hopes of Reconciliation, which were fondly entertained by Multitudes of honest and well meaning tho weak and mistaken People, have been gradually and at last totally extinguished. — Time has been given for the whole People, maturely to consider the great Question of Independence and to ripen their judgments, dissipate their Fears, and allure their Hopes, by discussing it in News Papers and Pamphletts, by debating it, in Assemblies, Conventions, Committees of Safety and Inspection, in Town and County Meetings, as well as in private Conversations, so that the whole People in every Colony of the 13, have now adopted it, as their own Act. — This will cement the Union, and avoid those Heats and perhaps Convulsions which might have been occasioned, by such a Declaration Six Months ago."
The Second Day of July 1776, will be the most memorable Epocha, in the History of America.
I am apt to believe that it will be celebrated, by succeeding Generations, as the great anniversary Festival. It ought to be commemorated, as the Day of Deliverance by solemn Acts of Devotion to God Almighty. It ought to be solemnized with Pomp and Parade, with Shews, Sports, Guns, Bells, Bonfires and Illuminations from one End of this Continent to the other from this Time forward forever more. You will think me transported with Enthusiasm but I am not. — I am well aware of the Toil and Blood and Treasure, that it will cost Us to maintain this Declaration, and support and defend these States. — Yet through all the Gloom I can see the Rays of ravishing Light and Glory. I can see that the End is more than worth all the Means. And that Posterity will tryumph in that Days Transaction, even altho We should rue it, which I trust in God We shall not."
Letter from John Adams to Abigail Adams, July 3, 1776, from the archives of the Massachusetts Historical Society. Spelling in the original.
The Continental Congress declared freedom from Britain on July 2 and approved the Declaration of Independence on July 4. The flag was the Continental Navy Ensign, which was first flown
 December 3, 1775 on the 
colonial warship Alfred and is considered to be our first national flag. See more on the flag above.
Shipping

Key dates for holiday shopping

December 15 at 3 pm Eastern: Our recommended deadline for domestic Christmas delivery via USPS.  While we can't guarantee delivery regardless of carrier, our hope is that if you order by December 15, USPS will have been able to get orders to domestic addresses by Christmas.  However, regardless of when you order, we strongly recommend UPS.

December 19 at 3 pm Eastern: Our recommended deadline for UPS 3 Day Select. 

December 22 at 3 pm Eastern: Our recommended deadline for UPS Overnight delivery.

Our recommendation for shipping during the holidays

While we don't know what this year will look like, during the 2021 holiday, a larger number of packages got stuck for days and weeks at some USPS sorting hubs.  While we didn't see this over the 2022 holiday, we strongly recommend selecting UPS during the holidays.

 

---

For shipments to addresses within the U.S. (scroll down for International shipping) 

Flat-rate shipping: Regardless of the number of items you order, the shipping price for shirts, caps, unframed prints and posters, bracelets, lapel pins, pendants, and button packs is $5.95.

For hooded and crewneck sweatshirts, mugs, and blankets, the shipping cost is $8.95. 

Our flat rate shipping means you can add two or more t-shirts, sweatshirts, or caps for no additional shipping charge.

Note that some large or heavy items, including larger framed prints, may have a different shipping charge or a shipping surcharge. When they do, it will be noted on the product page.

 

Timing

We try to ship orders within three business days of receiving them. This applies to in-stock items. Framed items or items requiring personalization may take up to two weeks longer. If there is an extended delay, it will be noted on the product page.

We close for a week over Independence Day and Christmas. A notice will appear at the top of every page of the site in advance of this closure.

We ship most orders via USPS, so if the post office is closed, we won't be shipping orders that day.

If you need to receive your order by a certain date, such as to give as a gift or have for a trip, we recommend ordering at least two weeks in advance, especially if you are using USPS shipping. 

If you're looking for reliable, on-time deliveries, we strongly suggest upgrading to "UPS 3 Business Day Select Shipping."

Additional notes:

When fulfillment takes longer, such as around the Christmas holidays, we'll put up an announcement in the site and will list recommended shipping deadlines below.
If an item is out of stock, we will contact you.
If one of your items is an advance order, that will be noted on the product page along with an estimate of when it will ship. If that estimated date changes, the product page will be updated.

Charges for shipping to destinations in the United States and to APO, DPO, and FPO addresses

Free shipping

On stickers, magnets, decals, patches, static clings, and individual button pins.



US Postal Service shipping - The least expensive, though also less reliable than UPS. (See more on UPS in the next section.) 



$5.95 for shirts, caps, unframed prints and posters, bracelets, lapel pins, pendants, button packs.

Regardless of the number of items you order, the shipping price is still fixed at $5.95. Our flat rate shipping means you can add another t-shirt, cap, or book for no additional shipping charge.



$8.95 for hooded and crewneck sweatshirts, mugs, and blankets.



We strongly recommend using UPS, especially in November and December.

UPS 3 Business Day Select 

Note: UPS 3 Business Day select is not available for addresses in Hawaii and Alaska. If UPS is selected for Hawaii or Alaska, the order will be shipped UPS Ground.

Cut off time: Orders received by 3 pm Eastern will ship the same business day.  Applies to in-stock items that do not require personalization or signing.

UPS's normal (non-holiday) delivery guarantee is by the end of the third business day, and this includes delivery on Saturday.  This applies to the 48 contiguous states. 

$14.95 for shirts, caps, unframed prints and posters, bracelets, lapel pins, pendants, button packs.


$18.95 for hooded and crewneck sweatshirts, mugs, and blankets.


If the actual shipping cost is significantly higher than what we're charging, we will contact you to discuss alternatives.



UPS Overnight (Next Business Day Delivery)


Before placing your order, call 469-233-7712.

---

For shipments to addresses outside the United States

Destinations

We only ship to locations that are served by US Postal Service International Service.

Charges

Canada and Mexico



$18.00

for shirts, caps, unframed prints and posters, bracelets, lapel pins, pendants, button packs.

$24.00

for hooded and crewneck sweatshirts, mugs, and blankets.





Rest of the World



Additional charges for all destinations

Some large, heavy items may have an additional shipping charge.  If that's the case, it will be noted on the product page.

If the actual shipping cost is significantly higher than what we're charging, we will contact you to discuss alternatives.
All original designs are copyrighted by The History List

All designs are copyrighted by The History List and the History Nerd text and design on t-shirts is a registered trademark. If you see a knock off, please let me know.
Mission

Your purchases support our mission to engage people with local history and to support historic sites and history organizations across the country.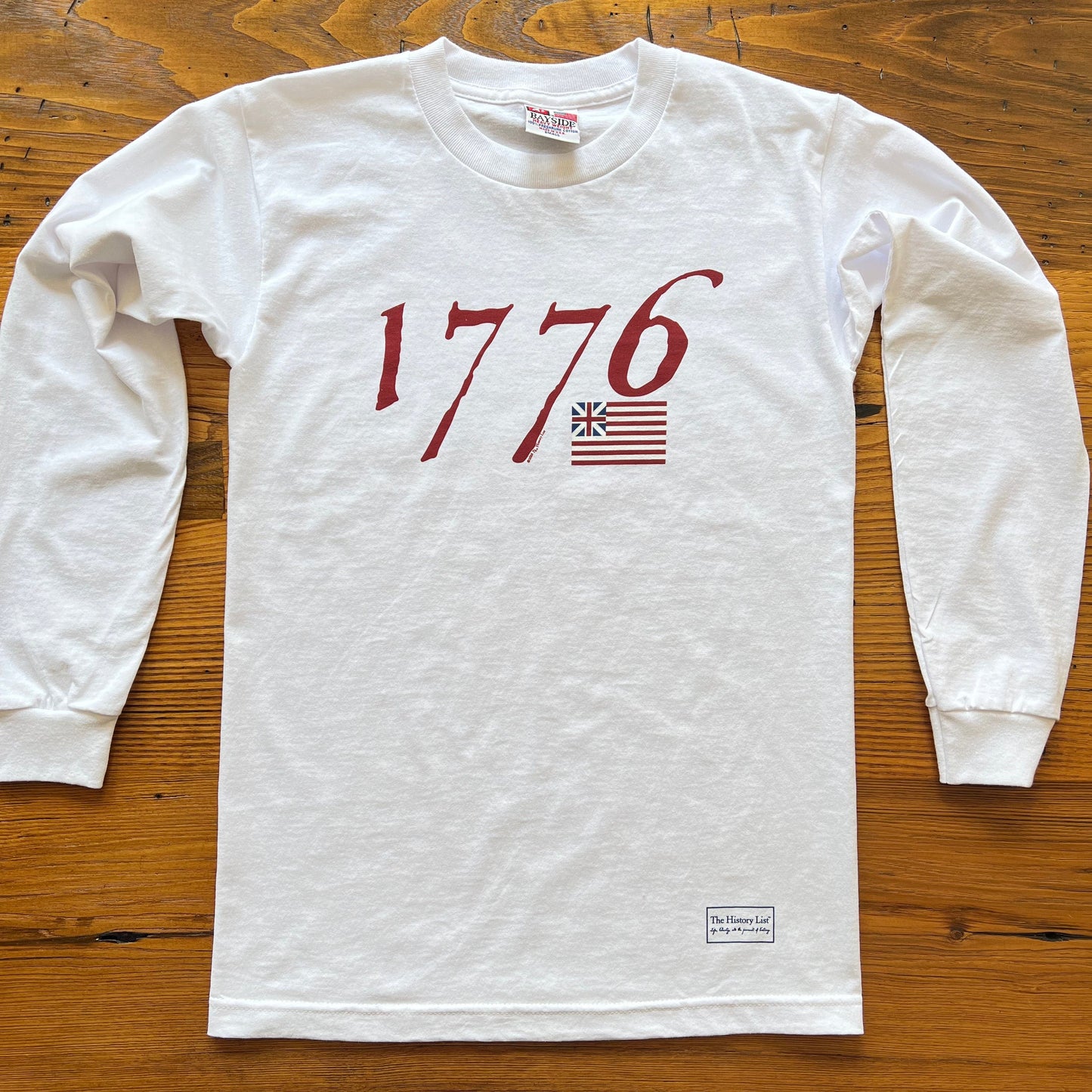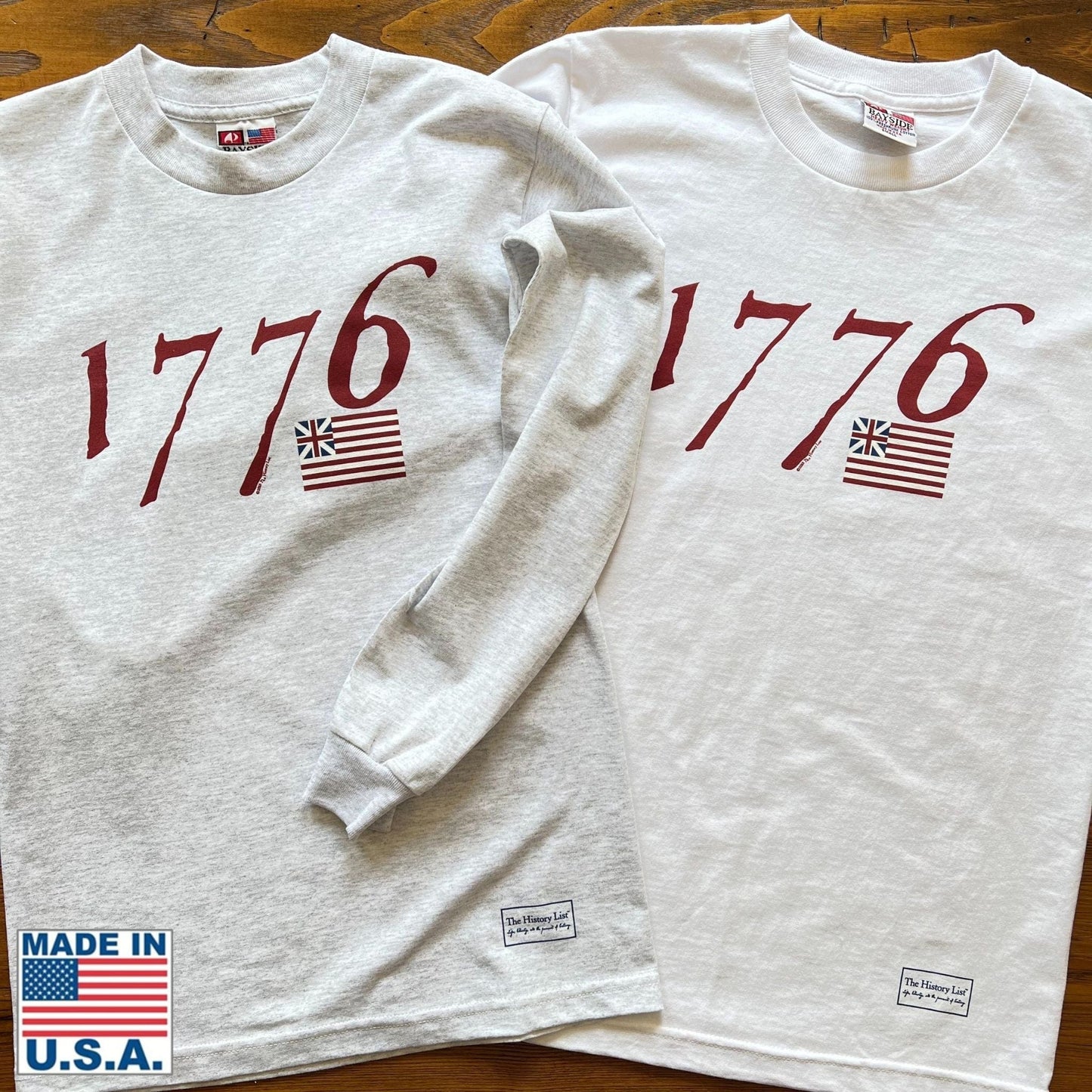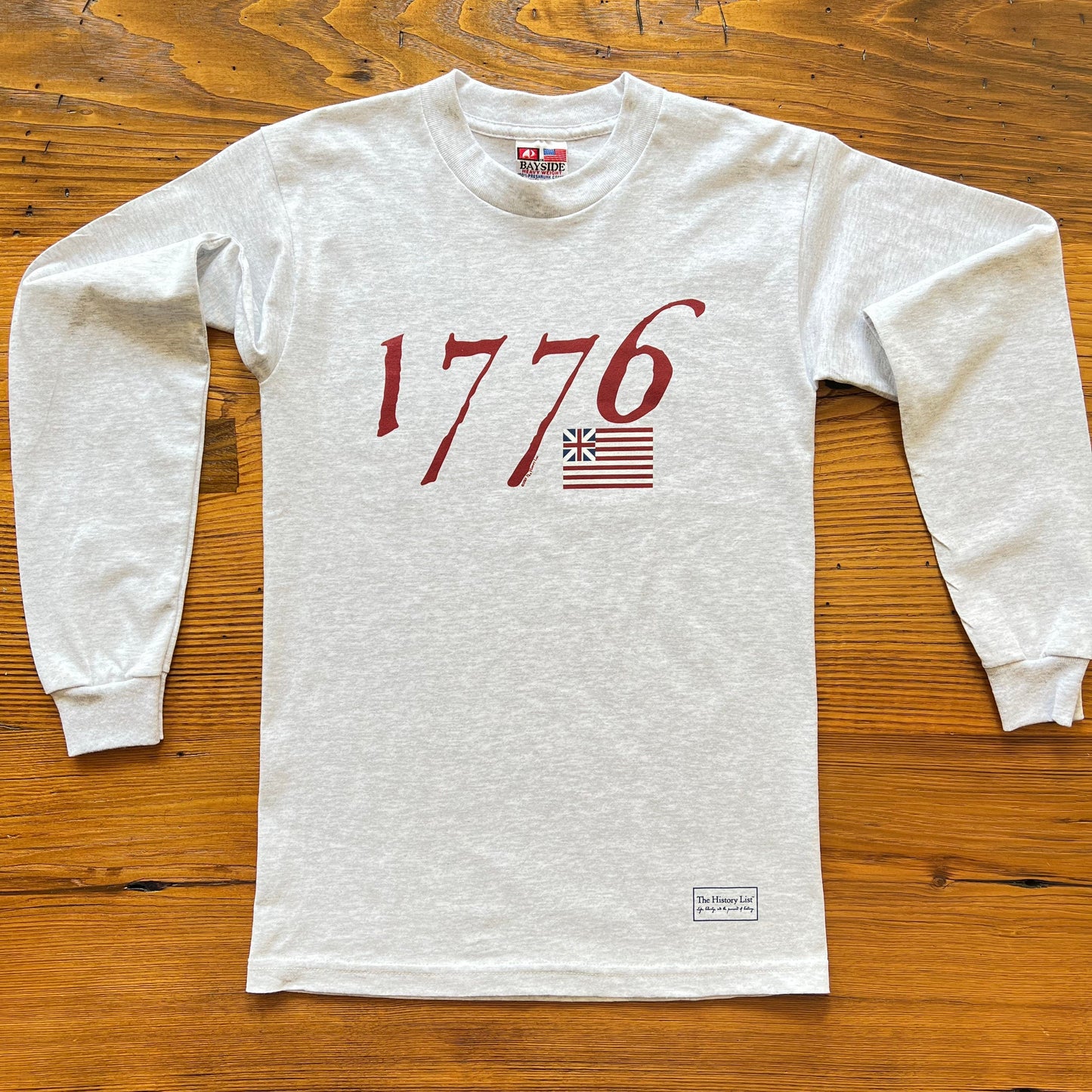 Love my shirts!
I am female, and ordered XL of long sleeved white "1776", and ss blue "1776", and I love them both, though they are larger than I'd thought. Probably will order another, in smaller size. Great quality, colors, and I've gotten so many compliments on both, already! Show your enthusiasm for this great country with one of these amazing shirts!
Great T Shirt
Perfect all around shirt.
Love this shirt
I love it and so does everyone else! I get more compliments!!
A well made shirt
This is a great shirt. It's quality and made in the USA
Love it
This shirt is well made and fits well. I normally wear xs to small and the small fits nicely. It's long enough to wear with leggings. I like that. It's very cute and comfortable. I recommend it!
Very pleased
This shirt is awesome! Fits perfectly. Very good quality.
Says it all!
I ordered the gray long sleeve and it's wise to order a size up. I'm a woman with an athletic build and about 135 lbs and usually a small is roomy enough. Taking advise of the description I ordered the Medium which yes fits with room to spare and a bit extra in case of shrinkage. Nice looking shirt. I love it!
spirit of…
absolutely love my shirt and will definitely be a repeat customer. 🤗🇺🇸❤️
i wear a medium so i was going to order a large, but the comments said "runs small." DONT size up!!