18 Gifts For the History Buff
Make this holiday historic with these great gift ideas perfect for history buffs!
1. History Camp Gift Certificate
If your friend or relative loves history, they'll love History Camp. History Camp brings together adults from all walks who have a passion for history. Now in six cities and still growing, your purchase of a History Camp Gift Certificate cover their full registration and more.
Learn more about History Camp.
2. "Declaration of Independence"
For every history lover, the "Declaration of Independence" printed by hand, the Boston broadside "Decaration of Independence" from the printing Office of Edes & Gill
We also have a pre-ratification broadside of the "U.S. Constitution" and the The Bill of Rights before the Amendments were approved.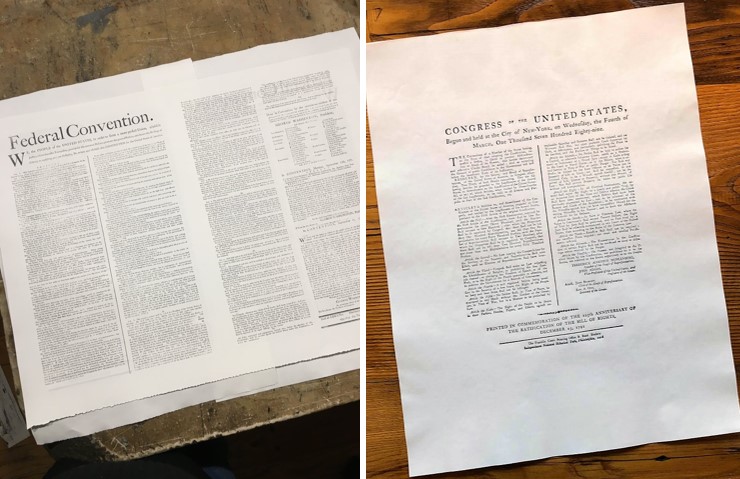 3. Suffrage pins and shirts
In celebration of the 100th Anniversary of the Women's Suffrage Movement, our exclusive "Jailed for Freedom" pin, "Votes for Women" pennant pin in purple, "Votes for Women" Sash pin. Boxed individually with clear tops.
Pair these pins with our Women's Suffrage Shirt with a timeless quote from Susan B. Anthony:
"There never will be complete equality until women themselves help to make laws and elect lawmakers."
Or our new, Revolutionary Suffragette Shirt with illustration by James Montgomery Flagg available in a crewneck shirt for men and women, as well as a women's v-neck shirt and tank top.
4. For the home
World War II on the Homefront — Large print with images of 100+ WWII posters
Our original design, "World War II on the Homefront: Posters in shops and factories, restaurants and railroad stations, schools and town halls," is a unique print that anyone interested in WWII history will appreciate.
5. "1773" Boston Tea Party Bracelet
Our original
"1773" Boston Tea Party
design for hard core history lovers, in a pewter medallion with a wire-wrapped bracelet. Made by hand in New England.
6. Shirts for hardcore history lovers
1773 Boston Tea Party, "Knox Moving Co.", and "We hold these truths - July 4, 1776"
For hardcore history lovers, the "1773" Boston Tea Party shirt, the "Join or Die" Shirt, and the "We hold these truths - July 4, 1776" shirt. These shirts are not only visually striking but the meaning behind the designs will surely be a conversation starter. Be a rebel and stump the average person!
7. History Sweatshirts
To keep history lovers warm this season, our collection of super soft pullover sweatshirts is a great idea. Featuring our most popular designs, "Repeal of the Stamp Act", "1773" Boston Tea Party, George Washington "Signature Series, "History Nerd" with Abraham Lincoln, "History Nerd" with a WWII Paratrooper, "Join or Die", and Revolutionary Superheroes. Explore all our sweatshirts in this collection.
8. Shirts for World War II enthusiasts
For World War II enthusiasts, choose between our "History Nerd" with WWII Paratrooper commemorative shirt, Flag raising on Mount Suribachi Shirt, V-Day Shirt with all the WWII battles listed, "She's a W.O.W." shirt, and "Operation Market Garden" Shirt.
Each design is available in a 100% Cotton Made in USA shirt option. Also comes in several colors and styles, as well as stickers and magnets. View our complete WWII-era collection.
9. Civil War Shirts
For the Civil War buff, exclusive Ulysses S. Grant "Signature Series" Crewneck Shirt and V-neck shirt for women and our "History Nerd" with Abraham Lincoln shirt.
10. Teddy Roosevelt Shirts on his Rough Rider Days
For fans of the band of fighters Teddy Roosevelt formed during the Progressive era, our bestsellers, Teddy Roosevelt "Signature Series" Shirt and Teddy Roosevelt "Rough Riders" Shirt
11. Historical Shirts
For the history nerd who has an endless fascination for anything historical, pick between the "Knox Moving Co." shirt and "Life, liberty, and the pursuit of history" shirts or the "One if by land . . ." Old North Special Edition Shirt are the perfect choice. Can't decide? Pick all three!
12. Shirts with historic figures
If they have a favorite historic figure, give them our "History Nerd" shirts with George Washington, Ben Franklin, and Thomas Jefferson.
Also available, George Washington "Signature Series" as well as John Adams "Signature Series". Or pick any item from our collection of "Revolutionary Superheroes". Featuring Abigail and John Adams, George Washington, Benjamin Franklin, and Alexander Hamilton.
13. Shirts for history teachers and history majors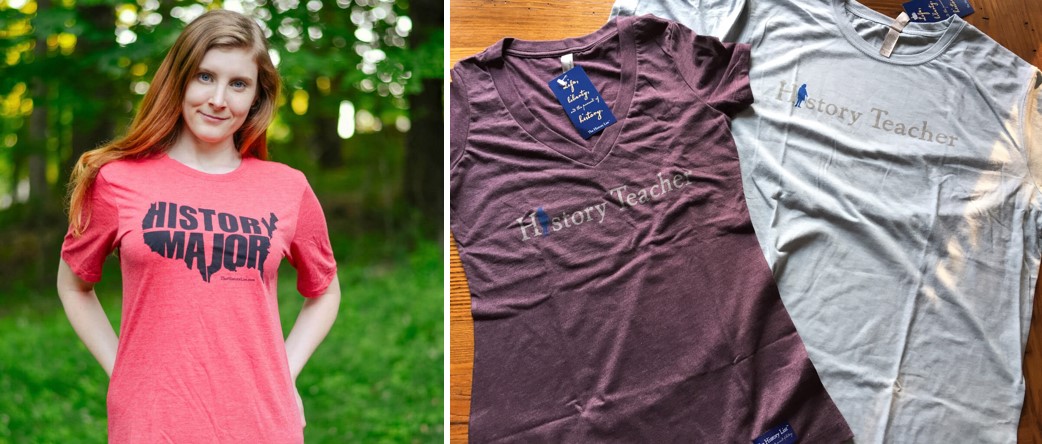 For the proud history nerd scholar, flaunt your love for history with the "History Teacher" t-shirts and "History Major" shirt. Also available as stickers.
14. Games for folks who loves History
Make game nights more historic with these board games created for history lovers. Kids and adults alike will learn valuable life lessons from Benjamin Franklin in the Franklin's Fortune deck building game and  players of the HistoryPlunge game will learn about the U.S. Presidents, important events in history, notable people that shaped history, and more from 1492 to the present in this new game.
15. History Caps and Mugs for when you don't know their size

When you don't know their size, our embroidered "History Nerd" with Ben Franklin cap as well as our new "1773" Boston Tea Party caps is a useful accessory for every kind of history nerd. Both come in a variety of colors to suit every style.
Another great choice is the "We hold these truths - July 4, 1776" mugs and the "History Nerd" with Ben Franklin mugs.
"Life, Liberty, and the Pursuit of History" Tote bags
As well as the "Life, liberty, and the pursuit of history" Tote bag which comes in a wide variety of colors.
16. Signed books
History buffs will enjoy our signed history books, such as the bestselling "When the Irish Invaded Canada: The Incredible True Story of the Civil War Veterans Who Fought for Ireland's Freedom" signed by the author, Christopher Klein. Each book you buy will include an inscription by the author. You may also write your own inscription at the notes section of the cart page.
For the World War II aviation enthusiast, the illustrated and autographed books from the Eagles Over the Pacific series showcases some of the most dramatic combat photos ever taken during aerial warfare, maps of every mission flown and aircraft profiles. Signed books in the series include "Warpath Across the Pacific", "Revenge of the Red Raiders", "Rampage of the Roarin' 20's" and "Ken's Men Against the Empire" Volumes 1 and 2.
17. History Shirts for Kids
For the history nerds in the making, our "Revolutionary Superheroes" Youth shirt, "One if by Land" Youth Shirt, and our "History Nerd in Training" shirt comes in light pink and light blue heather. Kids will also love our "Revolutionary Superheroes" poster.
18. Stocking stuffers
For stocking stuffers, our most-loved stickers, magnets and button pins in one pack. Pictured below are our "Revolutionary War" Sticker pack, "History Lover" Magnet pack, and Suffrage Campaign historical button pins and sticker sheet bundle. Also available, "We Can Do It!" sticker and magnet pack and "History Lover" sticker and magnet pack.

Find all these great gift ideas and more at The History List store.